Parish Apprenticeship Indentures and Registers (PA)
St Clement Danes, Apprenticeship Records, 1688-1694, Westminster Archives Centre, Ms.B1270, LL ref: WCCDPA364000113&14.
Introduction
This category of document includes two distinct forms of record kept by the parish of St Clement Danes, first a volume from the 1690s composed of the distinctive two-part forms of Apprenticeship Indentures (IA), and second, two volumes of alphabetical apprenticeship registers covering 1784 to 1801. These later volumes were probably abstracted from the Registers of Apprentices (RA) the parish was legally obliged to maintain following the passage of Jonas Hanway's 1767 Act for the Better Regulation of the Parish Poor Children.1
Indemnities and Indentures
Between 1688 and 1694 St Clement Danes maintained a volume in which indemnities and indentures were entered for each pauper apprentice. On the left hand (verso) page an indemnity was entered, signed and sealed, binding the apprentice master to provide for the pauper child for the full period of their apprenticeship, ensuring that the parish was saved any further expense in relation to the child. On the right hand (recto) page the formal legal indenture was entered and signed, laying out in detail the duties of both apprentice and master towards each other. Unlike most legal documents, and indentures in particular, these were not written on loose parchment, but entered, signed and sealed in a single parish book.2
The document above marked the legal apprenticeship of Elizabeth Patty to a stocking mender named Anne Briant for five years. For suggestions on how to research this topic see Researching Apprentices.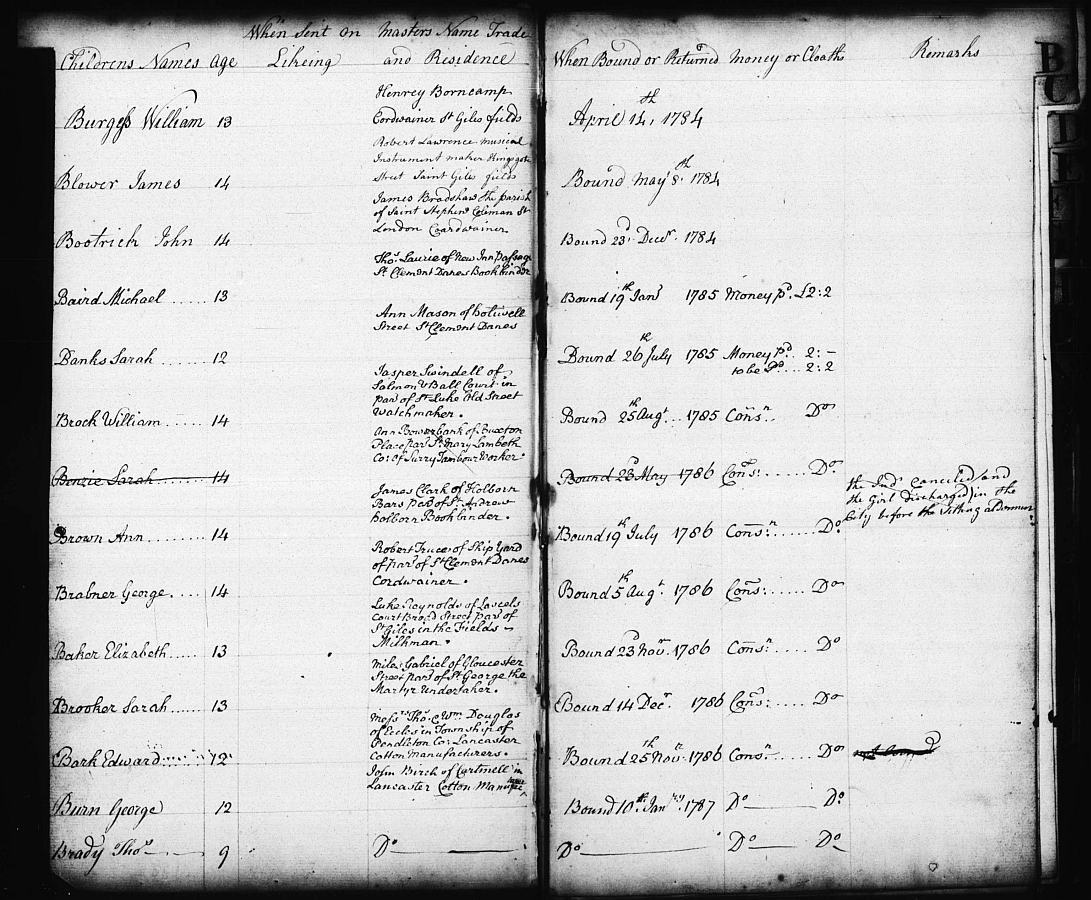 St Clement Danes, Apprenticeship Records, 1784-1792, Westminster Archives Centre, Ms B1266, LL ref: WCCDPA364010013&14.
Alphabetical Registers of Pauper Apprentices
Throughout the last two decades of the eighteenth century St Clement Danes maintained alphabetical registers of pauper apprentices, which abstracted and re-ordered for administrative purposes most of the information collected in the parish's annual Register of Apprentices (RA) (which do not survive for this parish). The two volumes in this series reproduced here overlap to a large degree, and were almost certainly designed to encompass all children still legally bound as apprentices from the parish at a single date, and to that extent form a kind of census.
In their most complete form, the information included in these volumes was entered under the following headings:
Children's Name
Age
Age in years, months and days
When sent on Liking [to a possible master] and by whom chosen
Masters Names Trade or Occupation & residence
When Bound or Returned
Consideration [the premium paid to the master] in Money & Cloaths
When the respective Payments made
Remarks
These registers take the shape of a table spread across two pages, with the child's name in the left hand column. Because of the dificulties in reproducing this material in transcription it is best to consult the associated images of the original documents.
Introductory Reading
George, M. Dorothy. London Life in the Eighteenth Century. 1925, 1965, ch. 5.
Hindle, Steve. "Waste" Children? Pauper Apprenticeship Under the Elizabethan Poor Laws, c. 1598-1697. In Lane, Penelope; Raven, Neil and Snell, Keith, eds, Women, Work and Wages in England, 1600-1850. Woodbridge, 2004.
Honeyman, Katrina. Child Workers in England, 1780-1820: Parish Apprentices and the Making of the Early Industrial Labour Force. Aldershot, 2007.
Lane, Joan. Apprenticeship in England, 1600-1914. 1996.
Levene, Alysa. "Honesty, Sobriety and Diligence": Master-Apprentice Relations in Eighteenth- and Nineteenth-Century England. Social History, 33:2 (2008), pp. 183-200.
Online Resources
For further reading on this subject see the .
Documents Included on this Website
St Clement Danes, Apprenticeship Records, 1688-94, Westminster Archives Centre, Ms. B1270, LL ref: WCCDPA36400, Tagging Level: C
St Clement Danes, Apprenticeship Records, 1784-92, Westminster Archives Centre, Ms. B1266, LL ref: WCCDPA36401, Tagging Level: C
St Clement Danes, Apprenticeship Records, 1784-1801, Westminster Archives Centre, Ms. B1267, LL ref: WCCDPA36402, Tagging Level: C
Footnotes
1 7 George III c. 39. ⇑
2 For an account of the role of parish apprenticeship in the seventeenth century, see Steve Hindle, "Waste" Children? Pauper Apprenticeship Under the Elizabethan Poor Laws, c. 1598-1697, in Penelope Lane, Neil Raven, and Keith Snell, eds, Women, Work and Wages in England, 1600-1850 (Woodbridge, 2004). The nature of parish apprenticeship in London and in the eighteenth century, as reflected in parish records, seems less punitive and oppressive than that described by Professor Hindle for the seventeenth. ⇑
---
---