Historical Background
The pages below provide comprehensive introductions to the subjects, institutions, and documents included in London Lives. For more general introductions to London life in the eighteenth century, you may find the background pages of the Old Bailey Online helpful, particularly London and its Hinterlands and Community Histories.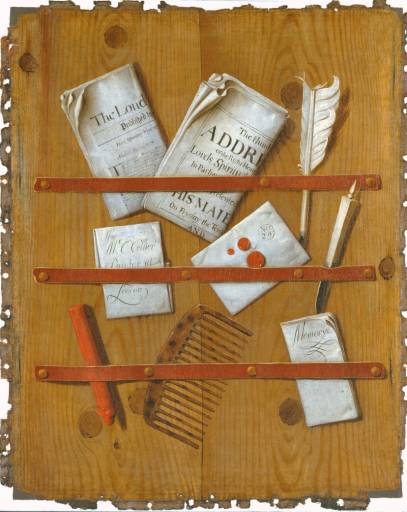 Edward Collier.
A Trompe l'Oeil of Newspapers, Letters and Writing Implements on a Wooden Board
. c.1699.
Tate Collection, 13113
© Tate Britain.
Local Government
Parishes, The City of London, Middlesex, Southwark, Westminster.
Criminal Justice
Prosecutors and Litigants, Policing, Reformation of Manners Campaigns, Justices of the Peace and the Pre-Trial Process, The Courts, The Criminal Trial, Punishment, Prisons and Lockups, Houses of Correction, Bridewell Prison and Hospital.
Poor Relief and Charity
Parish Relief, Parish Nurses, Workhouses, Settlement, Vagrancy, Associational Charities, Parliamentary Reform, The Parish Poor.
Guilds and Hospitals
Guilds, Carpenters' Company, Hospitals, St Thomas's Hospital.
Research Guides
How to Interpret an Eighteenth-Century Manuscript, Apprentices, Bastardy, Crime, Illness, Poverty, Work.
Document Types
Guides to each of the thirty-nine types of documents included in London Lives.
Additional Datasets
Guides to each of the fifteen additional datasets included in London Lives.
For a detailed reading list on all these subjects, see the London Lives Bibliography.
The Location of the Major Institutions whose Archives are Included on this Website.
---
---